"Together we can become the voice, advocating for the animals."
Meet Fleck. Fleck is a dog who went through our facility and found his fur ever home. You can read her story below!
In early 2019, Fleck found herself on the urgent list at a local shelter with no other place lined up to stay. Things were looking dire for the cute pit-mix but a rescue group, Jersey Girls, swooped in to say that they could adopt her, with one condition. They wouldn't be able to get her for another 3 months. Fleck didn't have that kind of time, but Unity for Animals heard about her case and stepped in to lend a helping hand. She was able to have a 3 month stay at the Unity Foster House before traveling up to New York to live with her new family.
 In August of 2018, Luna was in the middle of a tragic situation. Heartbreakingly, her owner passed away. The police found her with him in their apartment, loyally standing guard. The police then took her to the animal shelter. When Unity for Animals heard, they went straight there to put in a claim. Later, Fabiola said that this just "felt like the right thing to do—to honor the old owner because he loved this dog so much." Afterwards, Unity for Animals was contacted by the parents of the previous owner and 3 weeks later they traveled from several states away to adopt Luna. They were so grateful to the organization because they felt they were able to still have some lasting link with their son through Luna. Now, Fabiola always tells her husband, that if she dies, she wants someone to treat her animals with that same kind of kindness.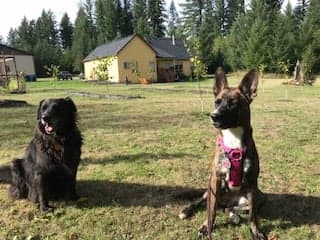 Jack Sparrow was found in the Frayser neighborhood in a box. We immediately took him to the vet and found out his eye had to be operated. We brought him home and stayed with us for few weeks until we found him a rescue. With the help of a wonderful rescue, Jack Sparrow was able to find a forever home!
.